Team Pogo

2-3-2013 Update:

Introduced the saddle to Pogo yesterday during training. He was not thrilled with the saddle whatsoever. He doesn't mind the heavier saddle pad but went wide eyed and scared with the saddle near. So we lunged around the saddle for a while and walked circles around the saddle multiple times and he calmed down and accepted it being near him. He accepted straps being around his bell
...
y with the saddle pad on so it was a good start. He's just telling me I need to introduce him to about 50 million other things before that saddle will be a piece of cake. Challenge accepted Pogo man! A few new bright, flowy, sparkly, noisy things being introduced this weekend. We'll try the saddle again Saturday :)
I am so proud of Pogo today. This guy has made the biggest strides so far in his training. He side passed on the ground multiple times, relaxed to a plastic sack all over him, had the saddle on his back for the firs...t time, cinched the saddle up, bent his neck on both sides clear to the stirrups, walked the lunge line in a saddle then decided to trot the lunge line with the saddle! I am beyond pleased with his achievement.
Powered by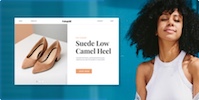 Create your own unique website with customizable templates.